Abe vows to boost ties with China, ROK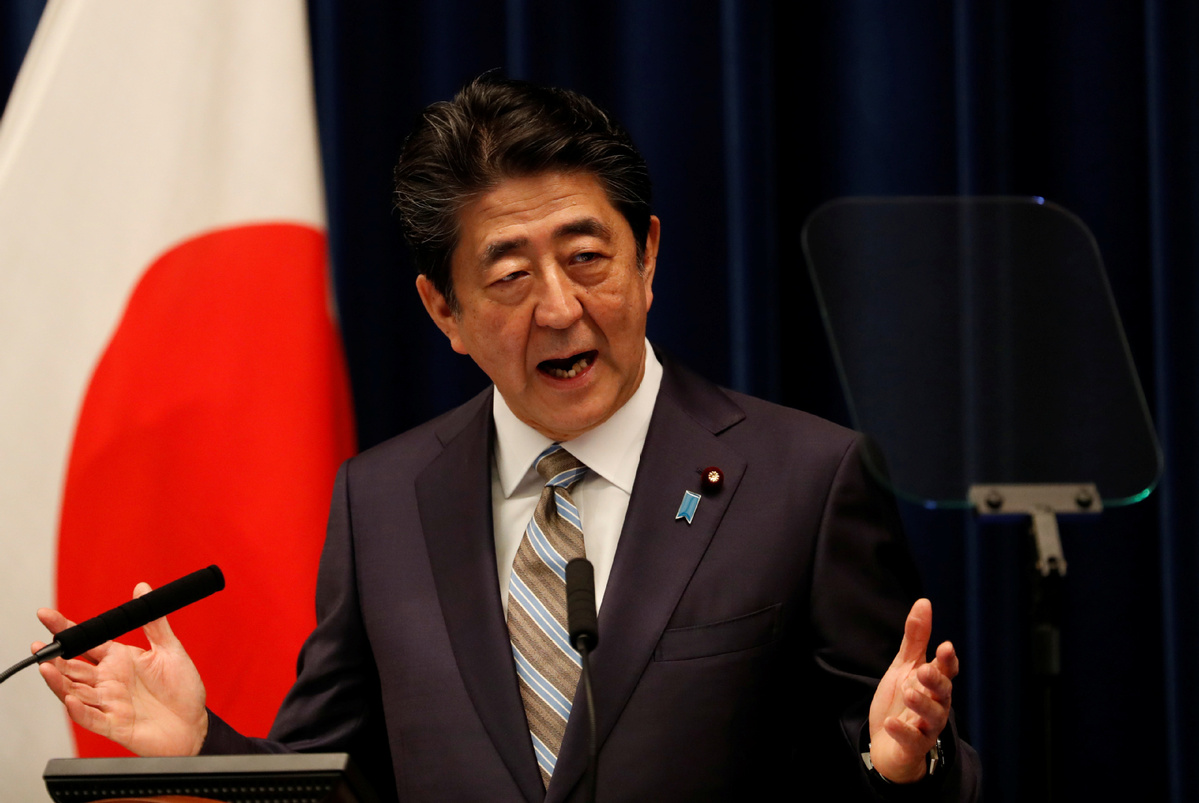 Japanese PM says cooperation has made great progress in range of fields
Economic cooperation, including the Regional Comprehensive Economic Partnership and a trilateral free trade agreement between China, Japan and the Republic of Korea are hitting high notes amid global uncertainties as Japanese Prime Minister Shinzo Abe vowed to boost three-way cooperation before a trilateral leaders' meeting to be hosted by China.
"This year marks the 20th anniversary of Japan-China-ROK cooperation. I hope the meeting can summarize this cooperation which had made great progress in a wide range of fields and also deepens it in areas of common interests such as environmental protection, an aging society and people-to-people exchanges," Abe said.
Abe made the remarks in a written interview with China Daily on Sunday, one day before he travels to Beijing where he will meet President Xi Jinping and then go to the southwestern city of Chengdu to attend the Eighth China-Japan-ROK leaders' meeting together with Premier Li Keqiang and ROK President Moon Jae-in.
"There are various issues that are unique to neighboring countries between the three nations," Abe said, "however, it is because of these issues that we should make good use of this opportunity to have frank discussions, to gradually push the solving of these issues and to lay a foundation for further development", he added.
The leaders' meeting between the three countries had been an important platform to foster regional cooperation starting in 2008 but bilateral disputes, with the latest one being a bitter spat over history and trade between Seoul and Tokyo, have often dogged that initiative.
"We could have more expectations for this year's meeting because Tokyo and Seoul took friendly moves before the meeting and their leaders will hold a one-on-one meeting during their visit to China," said Yu Qiang, a researcher of Japan studies at the University of International Relations in Beijing.
On Friday, Japan's trade ministry eased controls on exports to the ROK of one of three crucial chemicals used to make semiconductors - the first sign took by Japan to thaw tensions since a court ruling in the ROK triggered a series of retaliatory measures by both sides.
Yu said the Regional Comprehensive Economic Partnership and a trilateral free trade agreement will attract most public attention in the upcoming leaders' meeting.
"Whether China, Japan and the ROK will be able to agree to call on India to stay in the RCEP negotiations, which the nation recently suggested it may pull out of, is one thing to look at. The other is how far can the negotiations go on a planned free trade agreement between the three which cut tariffs at levels greater than those expected in the RCEP," Yu said.
On these issues, Abe gave obscure answers but said he believes in the power of cooperation between China and Japan.
"… China and Japan share great responsibility for peace, stability and prosperity in the region and the world. I believe great power will be generated if the world's second and third-largest economies cooperate with each other," Abe said.
Accounting for almost 24 percent of the world economy as a whole, China, Japan and the ROK shared a trade volume that exceeded $720 billion in 2018, with over 31 million outbound trips happening in the region.