Sow what you reap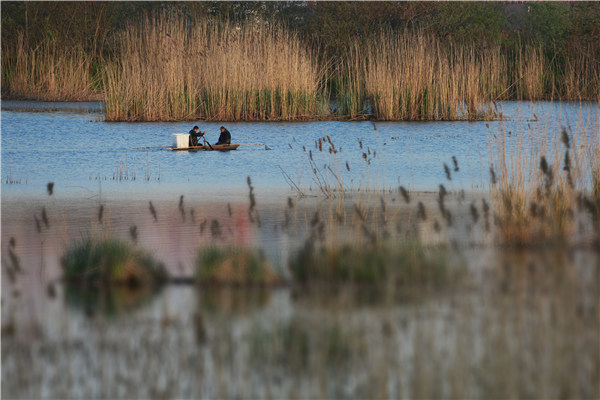 By mixing high-efficiency agriculture with rural tourism practices, a small town in Jiangsu has reversed its fortunes and created a prosperous environment for its local villagers.
Ye Minglan is cheerfully leading her guests on a red-carpet tour through the labyrinth of strawberry plants in her greenhouse.
"The route was where President Xi Jinping walked through when he visited us in 2014," Ye says with pride. Ye's family rented 6 mu (0.4 hectares) of land in Xianfeng village, Shiye town, Zhenjiang city in East China's Jiangsu province, and began to grow strawberries there in 2013.
Ye took over the land after it was rented out to two college graduates in 2012, who gave up after just six months.
"They grew cucumbers, but they couldn't develop any marketing channels," Ye says.
After consulting with agriculture experts, Ye's family settled on agricultural tourism as a business plan.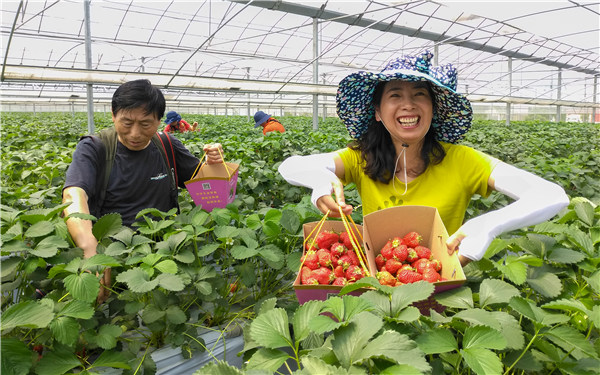 All their strawberries are planted on the top row of stacks of high shelves, which are filled with a patented formula wrapped up in membrane.
The formula was developed at an agriculture science institute in Zhenjiang and contains a mix of rich ingredients, from rice husks to turfy soil, which are fermented at high temperatures.
"This way, the strawberries can be kept free from dust and pestilence," Ye says.
Ever since Xi's visit to Shiye town, Ye's strawberry greenhouse has grown increasingly popular.
Tourists continue to flock to her garden to pick strawberries during the weekends and holidays.
"Around 300 people come here to pick fruit on a good day," Ye says.
On certain days, she receives seven or eight groups of business guests who visit her greenhouses to study how high-density agriculture operates.
Over the years, Ye's family has expanded their plantation to more than 110 mu, where they now grow six varieties of grapes, two types of strawberries and three different kind of peaches.
Tourists are able to pick fruit throughout the year. The strawberry season runs from November to May, peaches and loquats from April to July, and grapes from June to November, she says.