Tiffany opens biggest Asian store in Shanghai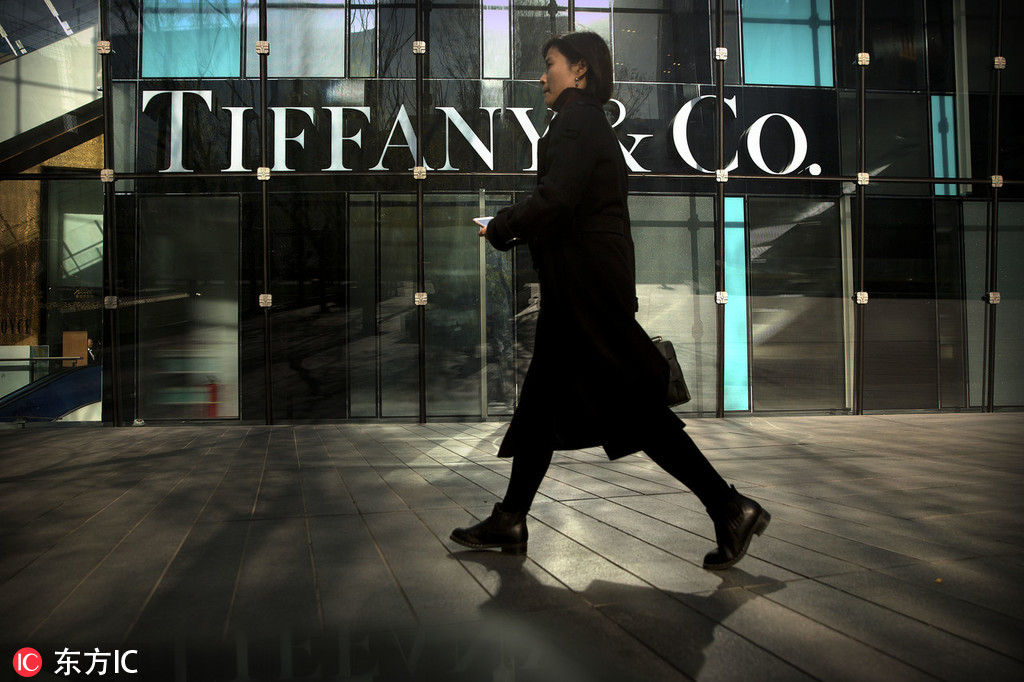 Jewelry giant hopes to bolster growth with experience-driven shopping venue
Tiffany & Co unveiled on Thursday its largest Asian flagship store in Shanghai, vowing to bring the full assortment of its jewelry and an experience-driven shopping venue to bolster growth in China, which is the firm's second largest market across the globe.
Located in the city's downtown Huaihai Road, the renovated two-story, street-facing shop almost doubles in space compared to its previous footprint.
It also introduced the first Tiffany Blue Box Cafe in the Chinese mainland, offering guests all-day menus while being immersed in the world of gemstones.
The idea is to offer a one-stop shop for a permanent lineup, limited-edition items, as well as an experience-led journey to Chinese guests closer to home, said the company's CEO Alessandro Bogliolo.
"You see higher spending in China than the rest of the world," Bogliolo told China Daily on the sidelines of the grand opening. "This is because the young generation customers in China-the millennials-are knowledgeable about jewelry and value it as a means of self-expression."
In its latest earnings report released earlier this month, the New York-based jewelry brand reported "strong, double-digit growth" for the quarter which ended in October. Bogliolo confirmed the robust trajectory has been sustained for the past several years.
Bogliolo identified China's rising young professionals, rather than the super-rich, as the backbone fueling exponential growth.
"And they have shifted from buying for the brand per se to delving into the intrinsic value through indigenous researches and the consequent deeper understanding of its propositions," he noted.
Chinese consumers at home and abroad spent 770 billion yuan ($109.9 billion) on luxury items, equivalent to one-third of the global spend last year, according to McKinsey& Co.
The consultancy predicted that their outlay is set to almost double to 1.2 trillion yuan by 2025, when 40 percent of luxury purchases will be conducted by Chinese.
"The China luxury (market) remains driven by the rising upper-middle-income group who desire to premiumize and see luxury goods as 'social capital' to stand out," said Daniel Zipser, a senior partner at McKinsey.
He noticed a rebound in purchasing luxury at home in the past two years due to a combination of exchange rates and relevant tax reforms the Chinese government introduced to spur consumption.
To fuel business acceleration, Tiffany launched its own Chinese language e-commerce platform several months ago to expand the reach of clients on top of its 34 physical stores on the Chinese mainland.
"The objective is to provide the full Tiffany experience rather than having 100 smaller stores where you have fewer assortments, smaller sizes and less experience," Bogliolo said. "So I prefer to keep the number (of stores) as it is... at the same time as having the website."
Zipser said the purpose of a flagship store is not just to drive domestic sales but more importantly as a showroom for brand building and an avenue to forge ties with customers.
"So brands should consider working with China's digital platforms to better engage with consumers and deepen understanding of their attitudes and arising trends," Zipser said.